Presented by Global Songwriters Connection
Does YOUR song have what it takes? Enter the 2016 Pensacola Beach Songwriters Festival Song Contest, sponsored by Global Songwriters Connection, and you could win BIG. Get your song heard and evaluated by a pro writer and win an opportunity to personally meet with a renowned Nashville publisher.
EVERY entry will receive a score sheet and evaluation by a pro songwriter.
The contest is open to all songwriters who don't currently have an exclusive staff publishing deal.
Entry deadline.

CONTEST HAS ENDED. SEE THE RESULTS BELOW!



Songs will be judged by professional songwriters and a panel of Music Industry Executives. All styles and genres accepted.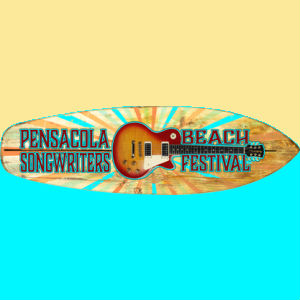 Prizes include:

$200 CASH PRIZE
Publisher meeting with Dallas Gregory of Songrocket Music
1 on 1 mentoring session with Global Songwriters Connection President Sheree Spoltore
1 year Global Songwriters Connection Membership
A performance spot at the 2017 Pensacola Beach Songwriters Festival
(all questions about the contest should be directed to
[email protected]
)
---
2016 Contest Results
We had an incredible batch of songs and writers this year, including: Vama, a rock band from Romania who entered via Reverbnation and Layla Khepri, a young rapper from Maryland. Thanks to all who entered for supporting the Pensacola Songwriters Festival.
Top Ten
Grand Prize:

Bonnie Warren: Paint
Jayne Sachs: Heart That Speaks
Linda Moroziuk: Skin
Dianne Hammer: No One Knows
Vama: Memories Now
Noel Gama: Blind Vision
Dan O'Rourke: Watch it Burn
Layla Khepri: Pray For Me
Debbie Pascarella: The Fire I Can't Put Out
Rachel Lipsky: Ready, Set Whiskey
Honorable Mentions
Sasha Aaron: Ghost in This Town
Bonnie Warren: Real Love Next Time
JR Hemingway: Children of Survivors
Carlene Thissen: Farm Town
Ashton Clark: Turn to Ash
Emily Faith: Meet in the Middle
Riley Bria: Shotgun
Kelsie May: Fool For You
Remember: Entries are now open for the Frank Brown Song Contest at www.globalsongwriters.com with the biggest EVER prize package. Give your favorite songwriter the perfect Holiday gift by purchasing an entry (or several) for their best songs and/or give your own songs a little something by entering today. All entries receive a score sheet and evaluation.