Pam Lack and Bobby Kropp score big with over 700,000 streams of their song " Find My Faith"
recorded by Christian Artist Ben Fuller
And Irish artist Ed Holland from the group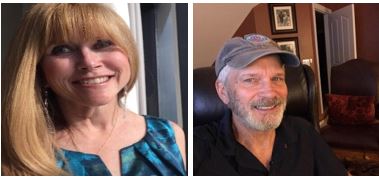 "Bobby Kropp, my partner in life and love, and I got on this crazy musical journey in Nashville in 2015, and a great piece of advice we got was to write with unsigned young artists. How did our story with rising Sony Provident artist Ben Fuller begin? In 2019, we got a call from our dear friend, Sandy Ramos, saying she had written a song with Ben Fuller, a new writer in town, and asked us to record the demo so she could pitch it. We were so impressed with Ben during that short recording session that we asked if he'd like to come on as a co-writer and write the melody on some song lyrics we had just written. That song was called "Catcher In The Rye." Ben agreed, and we formed a powerful bond that day. Bobby and I truly believe that God brought Ben to us.
Realizing that Ben didn't have much in the way of recordings, we all agreed that we'd co-write with him and produce an independent album. It was a huge commitment, but we were all in 100%. Ben was just finding his faith and becoming a Christian, and the whole theme of the album was to chronicle his journey from addiction to redemption, and our title track was called "Witness." The first line in the chorus was all about finding God… "You've been waiting on a witness; I've been waiting on a sign." Working with Ben was a true joy and a labor of love, and the 12-song album took an intensive 10 months to write and record. It was our honor to help his voice be heard.
We really learned through that album; it was a crash course in how to write for an artist. The focus was always on Ben's voice being heard. Bobby and I dug deep to find our shared experiences in every song we wrote with him. To me, the mark of a great artist and writer is someone who can make a deeply personal experience become universal.
Towards the end of working on 'Witness', Ben met Krystal Polychronis, an excellent Nashville songwriter who felt deeply moved to become his manager. She had never been a manager before, but Krystal dove right in. It was a huge undertaking, but she eventually mentored with Nashville manager Neil Speilberg last December, and together, they got Ben signed to Sony's Christian label, Provident. Fast forward, Ben has been touring with Cain, and playing Christian Festivals and churches all over the country. He is gearing up for a 54-city tour with Zach Williams this fall. In July, he was asked to perform at The Ryman Auditorium with Sidewalk Prophets and perform his first Sony Provident single, "Who I Am." As of 8/2/22 it stands at #11 on the Billboard Adult Contemporary Christian Chart. It is such a joy to watch someone soar in their gifts in this town!
"Find My Faith", one of our songs from 'Witness', has almost 700,000 streams and is still consistently rising by about 1,000 streams per day. Another song on the album called "Other Plans", chronicles a very dark point in Ben's life when he was 16, and how "the Hand Of God" led him back to the light. Writing those two songs, Bobby and I tapped into our own dark places, and together we all shed a lot of tears and laughter on these deeply personal songs. Nicole Lewis was a co-writer on both, as well, and they have been pivotal in Ben's ministries.
Another important point we witnessed watching Ben's journey was that, as incredible of an artist as he is, I think that Ben's heart is a huge part of his success. When he is not opening for major Christian Artists, Ben regularly performs and uplifts inmates and those struggling with addiction at Christian Festivals, Recovery Centers, and prisons all over the country. Because he is so transparent about his own addiction recovery issues, people can relate to him on an intimate level. We are so honored that those two songs have raised up so many souls. There are hardly words to express it.
Honestly, sometimes you never know who is going to walk into your life and be that next special relationship or opportunity. Even if you are at a low point, and everything looks dark, your life can still change in a moment. My best advice…never stop doing what feeds your soul.
One of the people who has been the most important to us on this journey is Sheree Spoltore. I don't know where we would be without her encouragement and helping us to connect with artists and publishers. She continues to be one of our biggest blessings. Such an incredible connector, I honestly don't know where we'd be if not for being members of Global Songwriters Connection, and we are eternally grateful."