Brand yourself over the Holidays! In this 2018 year, through our Publisher Online Pitch (POP) events you have been connecting with great publishers online. Several of you have been meeting with these same publishers, many of you signed single-song contracts, and a few of you signed publishing deals, publisher representation deals, artist development deals, etc.
With each step of these successes, it is important to give thanks. GSC recommends personalized thank-you cards, personalized touring cards, and personalized holiday cards as a great branded way to give thanks and remind the publishers or industry professionals of who you are!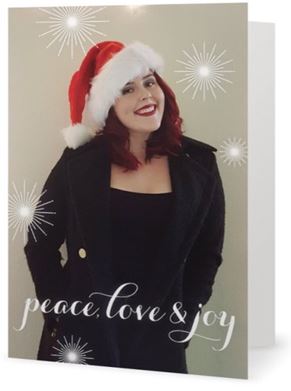 GSC member Sarah DeFors worked with us on her branded holiday card. Thanks to Sarah for allowing us to utilize her card from last year as a great example of a branded card. Here's why:
1. You can CLEARLY SEE Sarah's face! It isn't hidden in shadows or the shade of a hat. At this point in many of your careers, you need people to KNOW WHO YOU ARE.
2. You can feel the JOY coming from her smile! Industry professionals, whether they are booking agents, managers, publishers, etc., they all want to work with talented, JOYFUL, easy-going creators.
3. This particular card expresses Sarah's style and personality as she wrapped herself in holiday lights with a hat and that gave the card a FUN FACTOR or SMILE FACTOR.
Notice that the other 2 cards pictured below have their own variation of 3 important things:
1. Personality – the card reflects the sender's personality
2. A personal touch coming from a place of gratitude – i.e., the message (printed or a space left to hand write)
3. A PHOTO and Brand info. – Help them remember you by photo, name and contact info.!
---
Artist Alayna Carroll does a lot of TOURING and we worked with her on a "Touring Thank-You Card" which is a specialized card that she can quickly drop in the mail to the attention of the person who booked her for the show. When you give thanks and send something in the mail it makes a huge difference and you greatly increase your opportunity for further bookings. How many of you who are touring actually send a thank-you card in the mail to the person who booked you? Many artists simply collect their check and load out. BE MEMORABLE!
---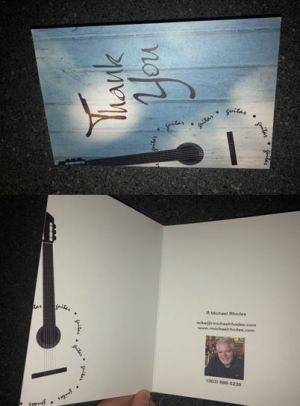 The personalized "Thank-You Card" below is an example provided by GSC Member Mike Rhodes. Sheree loves when she mentors with a member and they actually implement the guidance she has provided like Sarah, Mike, and Alayna did.
Make it easy for yourself!
Sites like Vista Print and Zazzle are inexpensive and easy – use them!
Have a personalized message printed inside (one card and message for Thank You's and one for the Holidays!) – remind them of your efforts, desires, and attitude!
You may want to also include your photo and contact info so you don't have to use up your business cards (see the Mike Rhodes card).
At GSC, our greatest desire is to help you build a CAREER in this industry. Use these tips to help in the BUSINESS side of your career!
---