by GSC Reporter, Daniel Reifsnyder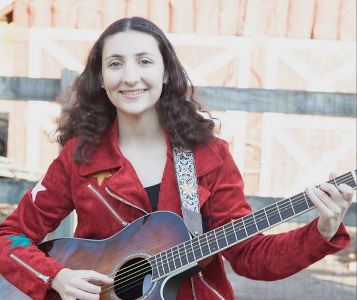 Dan Reifsnyder: Hey, Stella! Thanks for sitting down with us today. How did you get started in music?
Stella Prince: I've known pretty much my whole life that I was meant to do this. If I go one day without singing or songwriting I feel like a little part of me is dying inside. I've always seen music as the love of my life. It's something I could never live without ever. It totally defines me and I know it's what I'll be doing for the rest of my life.
DR: Very cool. How would you describe your musical style?
SP: It's definitely updated Folk music. I always like to say that Folk chose me, because when I started writing my own songs that was totally the sound that came out. My real goal is to bring Folk music to a new generation. I don't see it as a throwback, but more as a bridge to music's future. I think people are ready for a new sound and this genre of music really allows us to feel what might be possible someday and hear all those stories that Pop music, and a lot of music is really missing now.
DR: Yes. A lot of music is missing depth.
SP: Absolutely! It needs depth!
DR: Who are your influences?
SP: All the Folk greats. Emmylou Harris is one of my favorites. Joan Baez, Joanie Mitchell, Judy Collins. I think they're all just amazing musicians.
DR: Nice! So how did you get hooked up with Sheree?
SP: It's really pure fate. Two years ago when I was fourteen and just getting started here in New York, I hired a local songwriting coach to review my catalog. I told her that my dream was to go to Nashville and start my career. So when we finally went to Nashville she gave me the numbers of some musicians that she knew…every one of them wrote back and said "Sheree at GSC will help you! Here is her E-mail!" The rest is history. We've been working together about six months now one on one and it's been amazing.
DR: That's awesome!
SP: It's absolutely Nashville's hidden gem for sure.
DR: So you graduated high school early! That's exciting!
SP: I just graduated last week! Sort of an accelerated program through my local community college. Sheree and I decided together that I need to speed things up quickly because I'm excited to start my career and I've sort of been waiting my whole life! So it's a very exciting time.
DR: Your parents must be very supportive.
SP: Very supportive. I'm an only child and my parents are both artists. We live in an 1850's farmhouse on seven acres. It's kind of like an artist residency. We all just hang out and do our art.
DR: Oh, nice! Are they musical?
SP: No, actually my mom is a painter and my dad writes nonfiction!
DR: Very cool. What are some songs you wish you'd written?
SP: My favorite song currently is "Boulder To Birmingham" by Emmylou Harris. I just recently learned it and added it to my setlist and I am in love with it! She's one of my biggest idols for sure. One of my favorite quotes from her is "There are certain things that are true for everyone, we're all gonna have our hearts broken and search for life's meaning and a good song will find that place inside us because that's what music is supposed to do." That has always stayed with me.
DR: Are there any current projects you want to talk about?
SP: I've had a ton of really exciting opportunities I can't mention yet, but I've been getting booked a lot for showcases with the New York Folk Guild and the New York Songwriter's Circle. River Spirit Music, which is a NYC booking company, gave me my first hour long solo show a few weeks ago! And I just recently signed my whole catalog to a film and tv publishing company.
DR: That's very exciting! Is there anything else you'd like to add?
SP: I'd just like to say how amazing GSC is as a community. Before this, it was so much lonelier and different without all of these amazing songwriters and artists surrounding me. I feel like I've grown ten years in the six months I've known all these people.
DR: It is a really cool thing. Well thank you for talking with us!
SP: Thanks!