by Dan Reifsnyder, GSC Reporter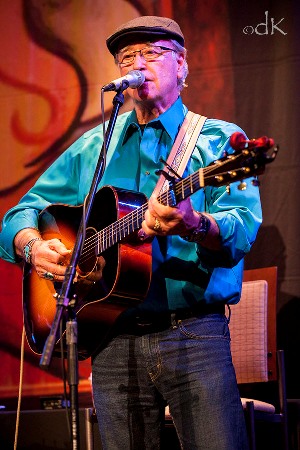 Dan Reifsnyder: So how did you get started in music?
Jim Parker: In '61 my sister's boyfriend, Jimmy Gilmer of Sugar Shack fame, gave me a guitar after I demonstrated I could play 'Peter Gunn'. I was playing in a band within three months, I wasn't very good, and later became a founding member of The Illusions that landed a record deal with Dot Records. In 1966 we decided to leave our hometown of Amarillo, Texas, and head to Los Angeles. During that time, The Illusions became "The Kitchen Cinq" recording with Lee Hazelwood's LHI label for three years. This later led to jobs with other recording bands like Armageddon and THEM (post Van Morrison) with some studio work with Sonny and Cher and various recording artists on the side. Fifty years later, on August 28, 2015, Ace Records of the UK and its affiliate US label, Light in the Attic Records, released the double vinyl, along with a CD, "The Kitchen Cinq, When The Rainbow Disappears", as an anthology complete with booklets of photos and history of our band. It is still available.
DR: That's very cool! Who are you influences?
JP: Buddy Holly, Jimmy Gilmer and the Fireballs, Freddie King, Elvis, Jerry Lee Lewis, Percy Sledge, Johnny Mathis, The Beatles and BB King and many more.
DR: I understand you're a hit songwriter yourself! What was it like getting your first big cut?
JP: "Chicken Truck" was my first, what some might consider a "Big" cut. I was excited and thrilled to say the least but the following songs led the way to "Chicken Truck."
My first Pop radio record was with "The Kitchen Cinq's" "Still in Love with You Baby" released in '67. We chased that airplay all over the States from Florida to Ohio to New York City. It was lots of fun but it was not sustainable financially. We returned to Los Angeles for more recording and changes.
My first Country Billboard chart record came out of Nashville in '77. I co-wrote "I've Got a Feelin'" with John Anderson and Michael Garvin. It was exciting to hear it on the radio. Another dream came true. It stayed on the charts for 11 weeks. That was long enough for ASCAP to award me with a plaque with this misspelling – "I've Got a Feclin'"! It is hanging on my wall today.
I also had a Big #1 Bluegrass hit last year titled "Better with Time" co-written with Billy Droze, who is the artist, and Ronnie Bowman. I'm as excited about my career as I have ever been. Life is good!
DR: When we were kids, my brother and I used to listen to "Chicken Truck" on repeat until the cassette wore out. What's the story behind "Chicken Truck"?
JP: I moved to Nashville in '75 and met John Anderson shortly thereafter. Our barber introduced us and we started writing within days. We fished and wrote a lot of songs before 'Chicken Truck" came along. Somewhere around '78-'79, John Anderson, the late Monroe Fields and I co-wrote "Chicken Truck". It escaped the grasp of John's producer at the time, Norro Wilson, who thought it was too much of a novelty song. He decided to record it because they had fifteen minutes left on a session. They did one pass and put it on the "B" side of "I Love You a Thousand Ways", an old Lefty Frizzell song when Jerry House at WSM turned it over. It ran up the charts to #8! (We all make mistakes in the business of music don't we?) Little did we know we had written, what would become, a "Country Classic" that keeps providing us with residual pennies today.
DR: I understand you host a songwriters series. How did that come about?
JP: Jim Parker's Songwriters Series ™ began in 2002 at various restaurants in and around Huntsville, Alabama. I was playing the "Bluebird Cafe" when I mentioned I was looking for a new venue for my program in Huntsville since my last restaurant gig had ended. Steve Maples, COO of the Von Braun Center, was in the house with his son-in-law and approached me after the show for a meeting to bring it into The Playhouse, a 300+ seat theater. I've been hosting the popular series for 14 years where I showcase the incredible talents of hit songwriter friends from Nashville, Muscle Shoals, Florida, Atlanta, Los Angeles, Canada and surrounding areas. The dinner-theater atmosphere has created a highly anticipated event where people listen to great songs from the songwriters who wrote hits for major artist and here the stories behind their songs. It's similar to the famous "Bluebird Cafe" format with plenty of perks for both the audience and the songwriters.
DR: Very cool. Sounds like a great showcase. Who would be your dream writer to host at the series?
JP: Well I've had Garth writers, Alan Jackson writers, BB King writers, Ringo Starr writers, George Strait writers, Barbara Streisand writers, Miranda Lambert writers, England Dan & John Ford Coley writers, John Anderson writers, Reba writers, Daryl Worley writers and many more.
Hmmmmm! I'd like to have Luke Combs, Maren Morris, Jon Pardi, Miranda Lambert, Chris Stapleton, Kacey Musgraves just to name a few.
DR: How did you get involved with Sheree and GSC?
JP: I met Sheree when she was evaluating song for NSAI many years ago. I have always appreciated her expertise and input not to mention her passion for mentoring young songwriters. We've stayed in touch and I invited her and Lou to my show a few years ago. She did an excellent presentation for the fans. I am a member in good standing at GSC.
DR: Are you involved in any current projects you want to talk about?
JP: Yes! I am working on an interesting project with New Media Production team! They shoot all of my shows in HD. We are working on placing Jim Parker's Songwriters Series ™ on television. We have hundreds of high quality performances ready to put into our format and currently looking for the correct outlets for our project. We are also seeking major sponsors who are art and songwriter friendly.
DR: Have you achieved your goals as a songwriter?
JP: Yes and no! I have always been a goal setter. But once I achieve my goal I set another. My belief is the dream to achieve is the elixir of life for the creative mind. A #1 song is a byproduct of planning, patience and perseverance.
Go to www.jimparkermusic.com to see what we are doing along with hundreds of live performance by the best in the business.