17-Year-Old Singer/Songwriter Named Pigeon Forge Path to Fame Talent Competition Grand Champion
Springfield, Tennessee's Brenna Beatty will begin a 12-month career development program with Nashville-based talent executive as well as perform at Pigeon Forge theaters.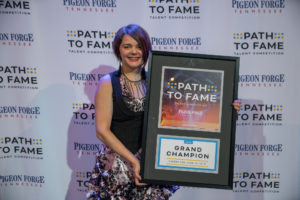 PIGEON FORGE, Tenn. (June 18, 2018) — A 17-year-old singer/songwriter from Springfield, Tennessee, was named grand champion of the Pigeon Forge Path to Fame Talent Competition on Saturday (June 16) at the Smoky Mountain Opry. Brenna Beatty was selected from 12 contestants all vying for the title.
Beatty will spend the next year working with John Alexander on career development. Alexander was instrumental in the careers of Patty Loveless and platinum-selling country star Kelsea Ballerini. Alexander, who was one of four judges for the finals, will work with Beatty, a prolific songwriter, and establish instrumental industry meetings with top executives, songwriters and more.
Approximately 450 contestants registered to compete in the Pigeon Forge Path to Fame. A three-month auditions tour visited Cincinnati, Nashville and Atlanta and produced four finalists from each city, all of whom competed in Saturday's finals. Contestants competed for a grand prize package that includes a 12-month career mentorship with Alexander and a consultation with Ballerini.
Beatty has written over 500 songs in the last six years. She taught herself to play piano and learned how to play guitar using YouTube videos at just 11 years old. Born into a musical family, Beatty's father was lead singer of a band for most of her life. She and her younger siblings are all following in his footsteps. Beatty has been homeschooled since the fifth grade which gave her the flexibility to focus on her songwriting craft and musicianship.
The singer/songwriter started performing in her parents' bar in Oregon until the adventure-seeking family packed it all up in a fifth wheel trailer and moved across the country, so Beatty could be closer to Music City to further her career. Beatty constantly seeks opportunities to develop her songwriting skills. In addition to seeking mentors and playing as many gigs as she can in Nashville, Tenn., she has participated in the Use Your Gift Foundation where she recorded a five-song EP. Founded by Firefall drummerSandy Ficca, Use Your Gift provides mentoring to aspiring performing artists. She has opened for Nashville local Meghan Linsey in addition to Trick Pony, Dylan Scott and more.
Each contestant performed in front of a live audience and a diverse panel of judges. Alexander was joined by Michael Headla, general manager, producer and director of the Smoky Mountain Opry, Jeff Taylor, general manager of Country Tonite Theatre; and Kyle Grainger, WVLT-Knoxville reporter.
"There was a lot of incredible talent on stage at the final competition. Brenna's songwriting is on par with successful musicians today," said Alexander. "When the music industry meets her, they will see the same 'it' factor we saw radiating from her at the auditions and in Pigeon Forge."
Beatty will return to Pigeon Forge to perform at a number of the theaters along the Parkway, receive media training, headshots, studio time and a shopping spree.
The top three finalists included the duo, Ashley Tragler and Christian Simcox from Bristol, Tenn., and Taylor Deaton from Springboro, Ohio. Deaton won in more than one way when her boyfriend, Zack Fogelman, proposed on stage during the final competition.
Pigeon Forge is a family-friendly vacation destination with over 80 attractions including award-winning entertainment. Janelle Arthur, Craig Morgan and Carly Pearce all got their start in Pigeon Forge. The city embarked on a three-city tour to discover new talent that could entertain Pigeon Forge audiences.
For more information about the Path to Fame Talent Competition, visit www.PFFame.com. For more information about Pigeon Forge, visit www.MyPigeonForge.com.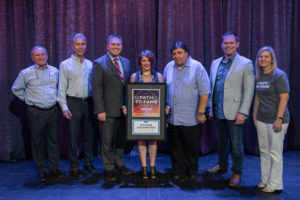 Group photo identification from left to right: Leon Downey; executive director of the Pigeon Forge Department of Tourism; Jeff Taylor, general manager of Country Tonite Theatre; Kyle Grainger, WVLT reporter; Brenna Beatty, Path to Fame grand champion; John Alexander, Nashville talent executive; Michael Headla, general manager, producer and director of Smoky Mountain Opry; and Sue Carr, marketing manager of the Pigeon Forge Department of Tourism.
---
Media Contact:
Jess Pangrazio
615-327-1189 ext. 350