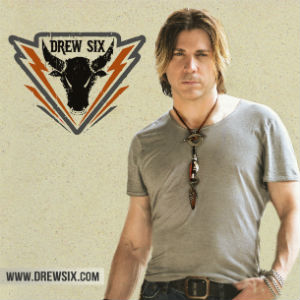 Global Songwriters Member Spotlight
Drew Six,
Singer/Songwriter
From the beginning, Drew Six knew exactly what he wanted to do. It's always been music. His drive, focus, and willingness to bet everything on his dream is evident in his lyrics, "We never had the luxury of giving up or slowing down. We are the dreamers…"
Drew explains his passion for his chosen genre, "One of the things I love about country music is that there are no rules. Throughout its history, artists have always challenged and expanded the genre. The common thread is that these are songs about real people and the human condition of day to day life. I am proud to be a part of that movement."
Six performs over 265 shows per year. He has recently been sharing the stage with notable acts such as Luke Bryan, Darius Rucker, Gary Allan, Dan + Shay, and Gloriana. This is where he has honed his craft and gained experience for his most important mission of all, to connect with people. "I learned early on that music has power. It brings people together that would normally never cross paths. Music has given me a special way to touch people and to give back."
Six's single, "We Choose Livin'" (featuring fellow emerging Nashville artist, Sarah Allison Turner) was written for and inspired by the kids of Variety Children's Charity. Debuting the same week as Taylor Swift's, Red, the single outsold Swift on the country iTunes chart on its release date. All of the net proceeds from the sale of the song continue to go back to the Variety organization which assists in providing mobility equipment for special needs children. Drew was honored with the "Quest For Kindness" award for his work with the international charity.
While Six splits his time between Nashville and K.C., he has maintained a close connection with his hometown. His gritty soulful baritone vocals and stage presence have earned him the title of "Best Sexy Musician" in Pitch Magazine and he is also featured as one of KC Magazine's "100 people that have changed life in Kansas City forever."
Drew has just released his newest single, "Learning To Drive," and signed his fifth endorsement deal. One of his high profile brand partnerships includes international rock fashion label, Corello. Based in Nashville, TN, the label is a favorite of entertainment industry celebrities like Florida Georgia Line, Hayden Panettiere, and Miranda Lambert. Corello is featured in very select boutiques including Gary Allan's high-end exclusive store, The Label, and will now be available to Drew Six fans at shows (as well as online worldwide).
For more information, please visit: drewsix.com